Chapter 1

Background on data analysis
1.1

The energy savings potential of buildings

The energy consumption of buildings accounts for 40% of the global primary energy use and up to 33% of carbon emissions in some countries, mainly from the operation of heating, ventilation and air conditioning (HVAC) systems. The gap in energy performance between older, poorly insulated constructions, and newer net-zero energy or passive buildings with efficient energy control strategies, shows the magnitude of the improvement that could be brought to the energy efficiency of the building stock. It is commonly known that the share of new buildings in the overall construction sector is very low. Most buildings are several decades old and often have poor energy performance, especially compared to recent standards for new constructions. The largest potential for energy savings in the building sector therefore lies in the renovation of the existing building stock, or its proper energy management.

Data science offers promising prospects for improving the energy efficiency of buildings. Thanks to the availability of smart meters and sensor networks, along with increasingly accessible algorithms for data processing and analysis, statistical models may be trained to predict the energy use of HVAC systems or the indoor conditions. These trained models and their predictions then lead to various inferences: assessing the real impact of energy conservation measures; identifying HVAC faults or physical properties of the envelope in order to provide incentive for retrofitting; minimizing energy consumption through model predictive control; detecting and diagnosing faults; etc.

The availability of measurements and computational power have given data mining methods an increasing popularity. The field of data analysis applied to building energy performance assessment however faces two main challenges to this day. Ironically, the first challenge is the abundance of data. Smart meters and building management systems deliver large amounts of information which can hide the few readings which are the most relevant to energy conservation. Automated monitoring and fault detection algorithms only do what they are told, and will hardly replace human intervention when it comes to understanding readings. The second challenge is the difficulty of data science. Without a principled methodology, it is very easy to draw erroneous conclusions, by incorrectly assuming that a model is properly trained. By lack of a background in statistics, building energy practitioners often lack the tools to ensure their inferences are correct.
1.2

From data to energy savings
1.3

Categories of data-driven modelling approaches
1.3.1

Either physical interpretability or prediction accuracy

The main subject of this book is to propose a workflow for the analysis of building energy data, that attempts to make the most out of the available data while avoiding the inherent pitfalls of inverse problems. This workflow is described and applied in the parts of the book that follow. Before presenting it, it is however perhaps necessary to clarify some aspects of vocabulary.

The previous sections have used expressions that seemed interchangeable, or at least overlapping in their definitions: model calibration; data-driven modelling; statistical learning and inference; inverse problems… These terms can describe the same process, or a part of it: collecting data and interpreting them with a numerical or a statistical model, in order to draw conclusions that will support energy conservation measures. There is so much literature on data-driven approaches for forecasting building energy consumption and demand, that several reviews are made every year, and a review of these reviews could be done. One noticeable trend is to classify models into white-box, grey-box and black-box (Deb and Schlueter (2021)), according to their physical interpretability.

A classification of data analysis methods and terms is proposed here: models categories from white-box to black-box are shown on a scale of two criteria: physical interpretability and forecasting accuracy. They are then roughly separated into three types of approaches: model calibration (mostly for white-box models), machine learning (black-box) and statistical learning with (grey-box) probabilistic models).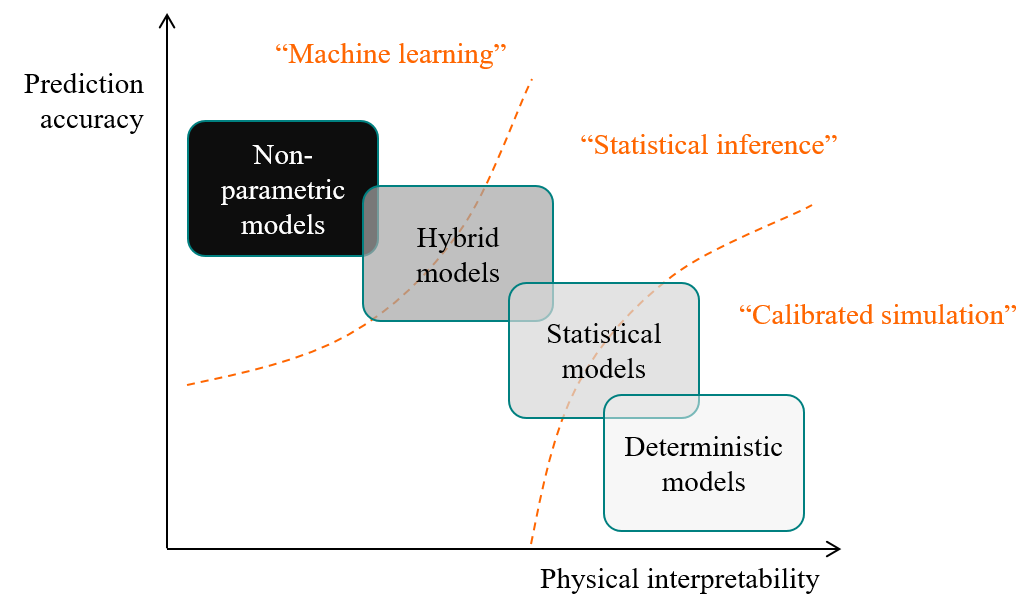 The first criterion by which methods can be classified is their requirements. These applications shown above essentially have at least one of the following two requirements:
Applications that require the ability to accurately forecast the energy use, or any other variable: energy management, optimised predictive control. These applications do not need the trained predictive model to have physically interpretable parameters, or even parameters at all.
Applications that involve learning the value of one or more interpretable physical values that describe physical properties of a building. These applications, such as the co-heating test, may be denote performance assessment or characterisation.
Some applications require both prediction accuracy and physical interpretability to some extent: measurement and verification, commissioning, fault detection…
The requirement of data analysis will determine the type of model that will be trained to replicate the data. The type of model is then closely related to the way that inferences will be drawn from it. We can loosely classify data analysis workflows into the three following categories:
1.3.2

Calibrated simulation (white-box)

Model calibration usually denotes fitting numerical models which are based on a more or less detailed physical description of the building, complete with a description of HVAC systems and controls, usually without a statistical representation of variables. The advantage of these models is their interpretability: each parameter has a direct meaning, which can be related to thermophysical properties of the envelope or systems. The IPMVP Option D evaluates energy savings by directly adding or removing energy conservation measures in a calibrated numerical model, and therefore requires such a detailed description of the building.

Detailed building energy models can be trained to replicate data by manual adjustement of parameters, or by more automated methods (Reddy (2006)). The ASHRAE Guideline 14 specifies what is an acceptable level of accuracy or uncertainty for a calibrated simulation with very permissive criteria: "typically, models are declared to be calibrated if they produce Mean Bias Errors (MBE) within 10% and CV(RMSE) within 30% when using hourly data, or 5% MBE and 15% CV(RMSE) with monthly data."

Calibrating detailed models however comes with conditions and limitations. A sufficiently detailed model, with enough degrees of freedom, will have no difficulty satisfying the above criteria, but may do so without necessarily assigning their true physical value to each parameter. This inverse problem may have identifiability issues, i.e. the existence of infinitely many combinations of different parameters which result in the same model output. A preliminary sensitivity analysis may be conducted in order to only select the most significant parameters as free for calibration, while fixing the rest. Still, deterministic models greatly underestimate the bias and uncertainty of their own predictions, and calibrated simulation can easily satisfy ASHRAE's validation criterion without representing the true state of a building.
1.3.3

Machine learning (black-box)

On the other side of the spectrum, machine learning (ML) is a purely data-driven approach. ML models are not based on physical considerations, but are designed to replicate observed patterns with maximum flexibility and adaptability. The most popular choices of ML methods are Artificial Neural Networks, Support Vector Machines, Boosting and Random Forests. One of the main references on the field is The Elements of Statistical Learning by (Hastie, Tibshirani, and Friedman (2009)). As mentioned earlier, there is enough literature on data-driven building energy modelling to motivate a review of reviews (Amasyali and El-Gohary (2018)), even when only focusing on the machine learning (black-box) side.

Because of their lack of physical interpretability, it is difficult for trained ML models to provide insight into thermophysical properties of building components. For this reason, their applications are complementary to the energy model calibration approach mentioned in the previous section. However, they are designed for prediction: they are well suited for forecasting energy demand. ML also comes with standard practices of validation and model order selection, in order to find a good bias-variance tradeoff and ensure accurate predictions.

This book will not venture very far into machine learning territory. We will however use Gaussian Process models at some point, by integrating them into other statistical models rather than by themselves.
1.3.4

Statistical modelling and inference (grey-box)

Calibrated simulation and machine learning both have advantages and limitations, as they are either appropriate for parameter interpretability or prediction accuracy. This book will focus on the third option: probabilistic modelling and statistical inference. Statistical inference can either follow a frequentist or a Bayesian paradigm: both will be introduced and demonstrated in our applications.

Statistical models represent the data-generating process (the building) as a set of statistical assumptions and stochastic processes, rather than deterministic relationships between variables. The formulation of these stochastic processes can be based on physical considerations, like a typical building energy model, except that they explicitely include possible errors and uncertainty. As a result, parameter estimates and predictions are inferred with a certain uncertainty as well, which translates the confidence that our model is able to produce about them. Model checking criteria then allow us to anticipate possible bias: results produced by a thoroughly validated statistical inference procedure are more reliable than deterministic calibrated simulation.

Probabilistic modelling starts with the definition of an sampling distribution \(p\left(y|\theta\right)\), which is the distribution of the observed data \(y\) conditional on the model parameters \(\theta\). When viewed as a function of \(\theta\) for fixed \(y\), this distribution is called the likelihood function. Finding the value of \(\theta\) that maximizes the likelihood function is called Maximum Likelihood Estimation, one of the main cases of frequentist inference.

Bayesian inference adds a prior probability distribution \(p(\theta)\) to the problem. The prior distribution describes any knowledge we may already have regarding the model parameters, before accounting for the measured data. According to (Gelman et al. (2013)): "Bayesian inference is the process of fitting a probability model to a set of data and summarizing the result by a probability distribution on the parameters of the model and on unobserved quantities such as predictions for new observations". Therefore, another specificity of Bayesian inference compared to frequentist inference is the fact that all variables of the problem are described as probability distributions, rather than point estimates.

This book is focused on statistical modelling and inference applied to building energy performance assessment. The next chapter will now describe how building physics can be formulated with statistical models, and present a few possible structures for these models. Then, we will propose a full workflow for statistical inference, either frequentist or Bayesian, which aims at making sure that models are well defined and trained for a given application.
References
Amasyali, Kadir, and Nora M El-Gohary. 2018. "A Review of Data-Driven Building Energy Consumption Prediction Studies." Renewable and Sustainable Energy Reviews 81: 1192–1205.
Araya, Daniel B, Katarina Grolinger, Hany F ElYamany, Miriam AM Capretz, and Girma Bitsuamlak. 2017. "An Ensemble Learning Framework for Anomaly Detection in Building Energy Consumption." Energy and Buildings 144: 191–206.
Beck, James V, Ben Blackwell, and Charles R St Clair Jr. 1985. Inverse Heat Conduction: Ill-Posed Problems. James Beck.
Deb, C, and A Schlueter. 2021. "Review of Data-Driven Energy Modelling Techniques for Building Retrofit." Renewable and Sustainable Energy Reviews 144: 110990.
Gelman, Andrew, John B Carlin, Hal S Stern, David B Dunson, Aki Vehtari, and Donald B Rubin. 2013. Bayesian Data Analysis. CRC press.
Granderson, Jessica, Guanjing Lin, Ari Harding, Piljae Im, and Yan Chen. 2020. "Building Fault Detection Data to Aid Diagnostic Algorithm Creation and Performance Testing." Scientific Data 7 (1): 1–14.
Hastie, Trevor, Robert Tibshirani, and Jerome Friedman. 2009. The Elements of Statistical Learning: Data Mining, Inference, and Prediction. Springer Science & Business Media.
JCGM. 2008. "Evaluation of Measurement Data—Guide to the Expression of Uncertainty in Measurement." Int. Organ. Stand. Geneva ISBN 50: 134.
Maillet, Denis. 2010. Problèmes Inverses En Diffusion Thermique. Ed. Techniques Ingénieur.
Reddy, T Agami. 2006. "Literature Review on Calibration of Building Energy Simulation Programs: Uses, Problems, Procedures, Uncertainty, and Tools." ASHRAE Transactions 112: 226.
Rouchier, Simon. 2018. "Solving Inverse Problems in Building Physics: An Overview of Guidelines for a Careful and Optimal Use of Data." Energy and Buildings 166: 178–95.